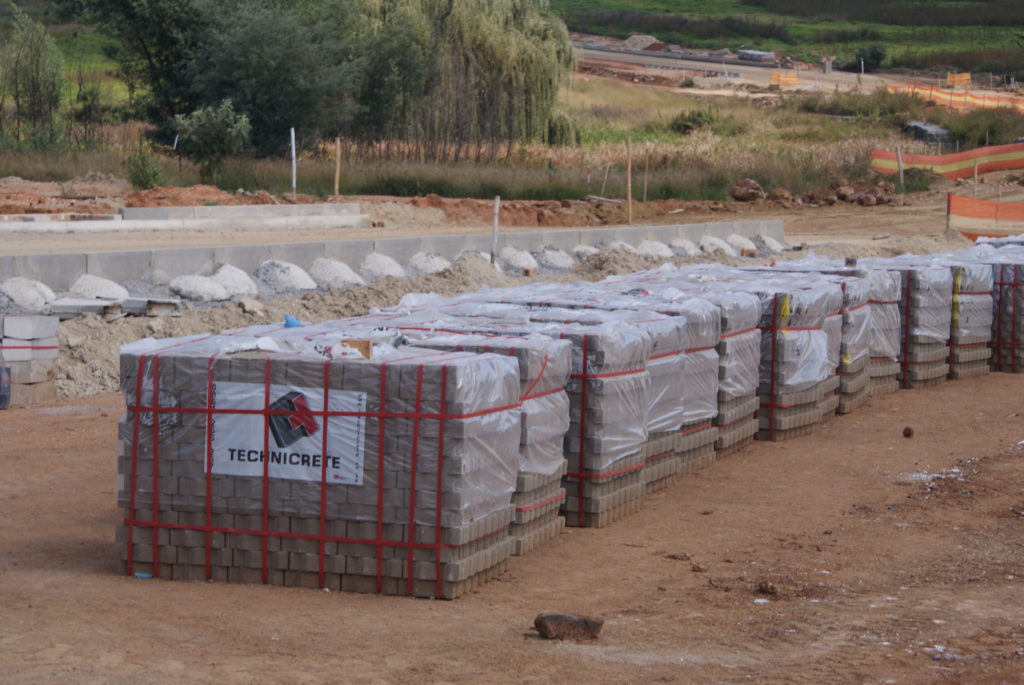 Work has commenced on the Centenary Road expansion project, which is the first phase of the R84 billion Modderfontein New City development in north-eastern Johannesburg.
Technicrete were awarded the contract to supply double zig-zag (DZZ) interlocking paving blocks as well as kerbs for the Centenary Road  expansion, which will, when completed provide a much needed east-to-west road access with the K113 provincial road.
ProBuild Site Agent, Wayne Green, said "This is the first phase of a massive project and Centenary Road when completed will be carrying a very large amount of traffic. One of the reasons Technicrete were chosen was the quality and durability of their products in conjunction with good service, delivery and reliability".
"We have used Technicrete products before, with one three-year-old project still in 100% perfect condition. Their concrete pre-cast kerbs are ideal for a project of this nature whilst their DZZ interlockers form an economical and hard wearing surface offering longevity that will most definitely be required" said Green.
"Technicrete is delighted to have been awarded this prestigious contract it is testimony to the fact that our products are of a superior quality whilst still being cost competitive. Our 60 mm DZZ interlocking paving blocks are well suited to industrial and factory roads, making them particularly suitable for the Centenary Road upgrade. We started to supply the 8820 square meters of grey DZZ's in March 2015, and this will continue through to October of this year. We are also supplying 8500 meters of 1000 mm barrier kerbing along with 16000 units of grey garden kerbing. All of these products are available in various colourings and dimensions to suit a client's requirements "said Wayne Oliver, Technicrete Sales Representative.
Technicrete kerbs are ideal edge restraints and in addition to barrier kerbing, semi-mountable; mountable and rectangular kerbing is available. DZZ interlocking paver applications range from domestic driveways and commercial developments through to heavy duty loading bays and container terminals where forklifts and similar equipment is in regular use.
The Modderfontein New City project is due for completion in 2024.