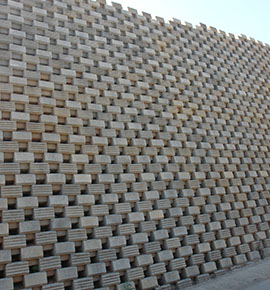 Technicrete's Enviro-Wall is a cost-effective and simple gravity retaining wall system that is suitable for earth embankments, bridge abutments, cut slopes, landscaping of cut and fill areas around buildings, a protection for steep channels and river banks as well as culvert inlets and outlets.
Constructed from dry stacked interlocking, precast blocks, the simplicity of the Enviro-Wall design enables the blocks to be easily and quickly laid to form an effective retaining wall system. Opening or closing the spacing between the blocks means that the Enviro-Wall structure configuration can be altered so that in the open arrangement cavities between adjacent blocks can be filled with soil, enabling the moisture in these spaces to promote rapid plant growth. It can also be installed as a solid engineering structure.
Differing visual effects can be achieved by a reversal of the block which gives a smoother or textured face or a combination of the two.
Due to the extensive mechanical lock, as a result of the profile shape, between blocks in the Vertical plane, Enviro-Wall is the preferred option for walls requiring reinforcement in the form of horizontal Geogrids.
Suitable for supporting a wide range of embankment heights, the wall is able to accommodate both concave and convex alignments down to a small radius of curvature and the Enviro-Wall can accommodate moderate ground settlement. With the custom designed Base Block, the angle of the inclination of the wall can easily be set at 700 , but can be varied should site conditions require different angles.
The Enviro-Wall blocks are available in 275 mm x 300 mm standard sizes with a block mass of approximately 23kg.
Technicrete ISG is part of the IS Group which also comprises Rocla and Ocon Brick.
Further information is available from: Guinevere Thomas, Group Marketing and Communications Manager, the IS Group Tel: 011 670 7733 Cell: 078 803 9863 email: Guinevere.Thomas@isgroup.co.za
Issued on behalf of the IS Group by: SJC Creative, Contact Sue Charlton Tel: 011 794 8170 Cell: 082 579 4263 email: sjc@worldonline.co.za