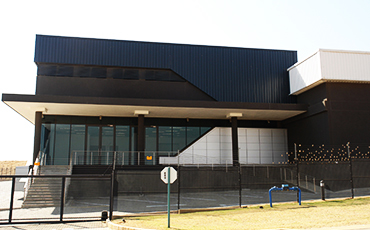 Location, location, location is the property developer's mantra, and Lords View Industrial Park in Chloorkop, near Midrand, offers just that with access to all the major highways as well as being in close proximity to O R Tambo International Airport. This major industrial park development, which commenced in March 2011, will house global and national industrial and retail distribution centres and warehouses.
Technicrete ISG, part of the IS Group of companies, was selected to pave and kerb the perimeter of the industrial park and their Armorflex solution for erosion control was used in an overflow application joining the four dams situated in the park.
Power Construction's Site Agent, Robert Turner said "On a project of this magnitude, aesthetics are as important as functionality. The Technicrete kerbs and double zig zag (DZZ) paving is a quality product that gives the industrial park a good and pleasing finish. We used Technicrete's barrier, mountable and semi-mountable kerbs in a variety of dimensions to kerb the 2.5 kms of roads and walkways at the park, whilst the paving area utilised DZZ's and BondBrick grey pavers for the parking and other walkway areas".
"It was the product quality, service and price from Technicrete ISG that secured the contract as well as their professionalism. Product demand and supply at times became a challenge, but it was not insurmountable for Technicrete ISG who did not fail in their delivery of stock" said Turner.
In addition to the industrial park development, Technicrete ISG also completed work within the Greencross building area and will be supplying DZZ's and BondBrick for the Foschini and Stuttaford warehousing sites that are shortly to be developed at Lords View Industrial Park.
Technicrete ISG Sales Consultant, Tienie Bronkhorst commented "We supplied R1.5 million worth of Technicrete product to Lords View Industrial Park, which is a project in motion and due for completion in June 2016. In addition to our pavers and kerbs, our Armorflex solution offers installation flexibility as it conforms to ground contours, does not fracture and requires little ground preparation. It provides a good defence against erosion with an excellent lining for drainage channels".
"We are very pleased with the final appearance of our products around the industrial park which has used the grey/terracotta colour scheme combination and are delighted to be involved in further sites within the complex" said Bronkhorst.
The Technicrete DZZ's are available in autumn, grey, terracotta, plum, slate and tan colours with a length/width of 220 x 97 mm. BondBrick are available in the same colourings with a length/width of 200/100 mm.
Technicrete ISG is part of the Infrastructure Specialist Group, which is also the holding company for Ocon Brick and Rocla.