The new multi-million-rand Olifantsfontein Fire Station that commenced construction in late 2019, has a most impressive forecourt paved by Technicrete Double Zig Zag (DZZ) pavers and Fig3 kerbs. The fire station, which is being built by the City of Ekurhuleni, will replace the old fire station that was built in the 1940s.
Fire station forecourts need durable paving due to the heavy load of fire engine and emergency vehicle traffic. The new Olifantsfontein Fire Station will have housing and forecourt space for five fire trucks, three ambulances and a helipad, making the choice of paver for the station an important factor.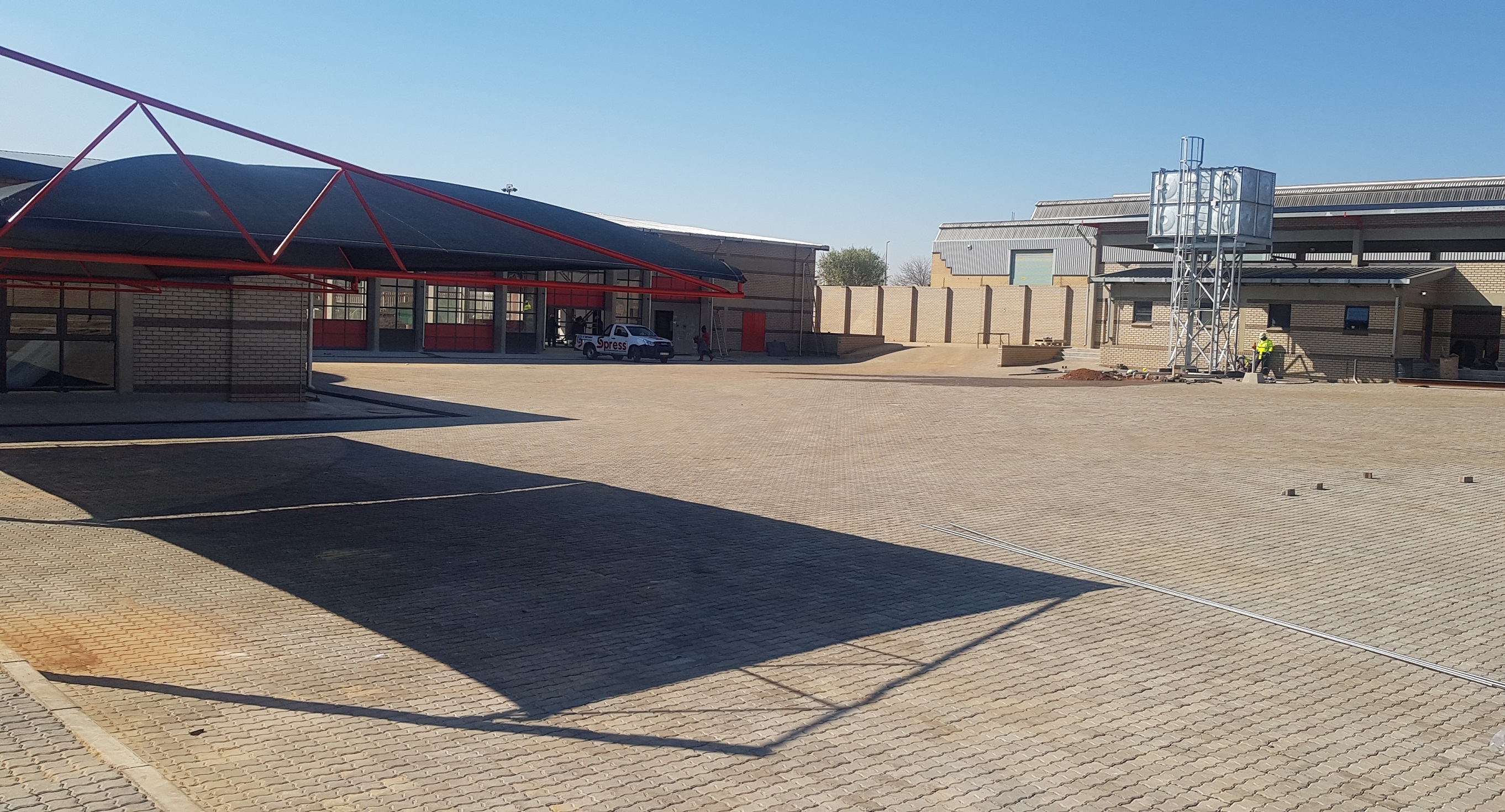 Technicrete sales consultant, Luan Van Der Berg, said "Our DZZ pavers are particularly suitable for forecourts and industrial areas that will have regular usage by heavy load vehicles travelling upon them, such as the Olifantsfontein Fire Station and their large heavy-laden fire trucks. It is an economical paver, but still gives the project an impressive forecourt appearance and our Fig 3 kerbs added the finishing touch".
Pmash Project Management's site agent, Zikhona Lukani commented "We wanted a manufacturer and supplier of pavers for this project that would not only offer a reliable delivery of the pavers, but who had solid experience in assisting in the choice of paver for this distinctive application. The pavers we required needed to be able to withstand the harsh and frequent traffic load that a fire station has. We found these elements with Technicrete, who always met delivery scheduling and offered sound technical assistance".
Between February and March 2020 Technicrete supplied 4400 m2  of grey 80mm DZZ, 1807 m2  of grey 60mm DZZ and 1000 mm of Fig 3 kerbs to the Olifantsfontein Fire Station project. "One of the perks of being nearby and having a manufacturing plant that always meets orders, is what enabled us to meet the deadlines required by Pmash Project Management" said Van Der Berg.
Technicrete's DZZ pavers are available in a variety of colour tones and sizes Apart from fire station forecourts they are ideally suited, due to their durability and longevity to domestic driveways, municipal parking areas, pedestrian pavements, pathways and commercial developments. Petrol station forecourts, industrial and factory roads, suburban streets, heavy duty loading bays, platforms and industrial areas used by forklifts and other yellow metal equipment.
Technicrete is a certificated member of the Concrete Manufacturers Association and has been involved in a variety of local government infrastructure projects as well as private and commercial developments.