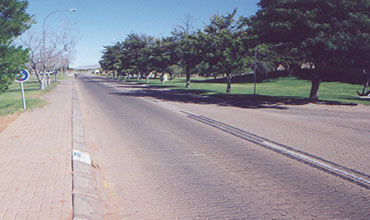 In 1978, the Aggeneys mining township was developed in the Northern Cape by the then Black Mountain Group. Housing and roadways were built for the groups` employees and local residents. Technicrete, then known as Concor Precast, operated two block manufacturing plants adjacent to Aggeneys enabling them to produce the newly designed Zig Zag block pavers for the project.
"That was 39 years ago, and the roads and houses are still in perfect condition, even though traffic throughput has been at a far greater speed than the original roadways were designed for" said Tony van der Berg, Technical Executive, at the IS Group.
"We visited Aggeneys 15 years ago with engineers from the Black Mountain Group who confirmed that they had conducted no maintenance whatsoever since we supplied the new Zig Zag product in 1978. We had also originally supplied a number of black hollow products for the housing project, and when visiting earlier in 2017, the product still has a good surface and appearance – testimony to our manufacturing and design capabilities and a real commendation for the use of concrete in order to obtain a longer lifespan for such applications".
"Originally, we manufactured our Zig Zag product with a VB4 sized Schlosser machine and a single Besser machine. Today, we use far more advanced technologies and equipment in the manufacture of our Technicrete concrete products and these too will stand the test of time. Our expertise in concrete technology is well documented, not only for standard product, but for customer specific requirements as well" concluded van der Berg.
Since 1978 Technicrete has introduced the Double Zig Zag (DZZs) interlocking pavers which offer the same longevity and cost effectiveness through their continuous, hard wearing surface overlay.. They are particularly suited for areas of heavy traffic such as municipal parking areas, petrol station forecourts, industrial and factory roads, suburban streets as well as domestic driveways.
The DZZs are available in Autumn, Terracotta, Grey, Plum, Slate and Tan colours.
Technicrete offers a range of products from Armorflex simple erosion protection solutions to retaining wall support blocks as well as interlocking pavers and kerbs.
Technicrete ISG is part of the IS Group of companies which includes Rocla and Ocon Brick.