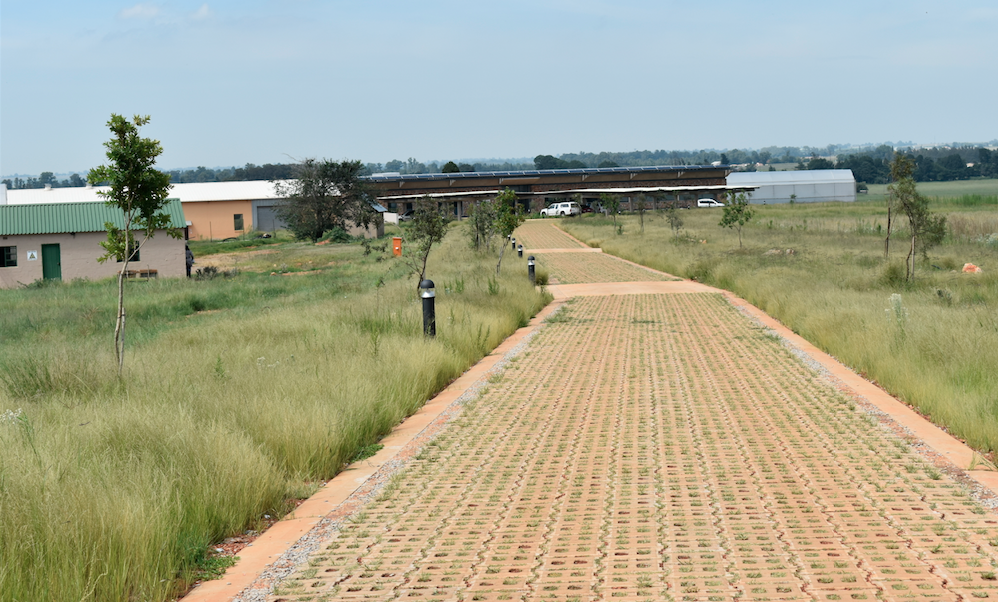 Technicrete's Armorflex system was specified by both the architects and engineers for use on construction of the new entrance road to Du Pont Pioneer's newly built research facility at Delmas, Mpumalanga. This product placement was due to the client's requirement for a 'Green' Road that could blend in with the natural surrounds of the facility whilst offering suitable durability to traffic loading and environmental conditions with an impressive final appearance.
"The Internationally Licensed Armorflex system is manufactured in South Africa by Technicrete and is the only similar type system available locally with the facility to wire tie adjacent blocks together into long mats. Anchorage into in-situ soil further assists with stabilisation of the blocks and road surface. The loose but interlocking design allows the concrete road surface to remain flexible to movements, eliminating the cracking and spalling issues that plaque solid concrete surfaces, even when exposed to regular inclement weather. The openings in each block and between blocks are perfectly sized to benefit from enough vegetation growth to make the surface appear 'natural' whilst still maintaining structural integrity. Similarly, Armorflex is also a perfect solution to Jeep Track type installations." said Justin Kretzmar, Sales Engineer for Technicrete.
Michael Magner, Director at Activate Architects said "The Du Pont research facility was built on farmland therefore the Technicrete product blended perfectly with the rural setting, while providing an erosion resistant roadway and keeping traffic at a slower pace due to the slight roughness of the finished on the product".
"The project entailed a 400 meter long roadway and parking area for approximately 40 cars. Technicrete's Armorflex and kerbs were chosen by the project's Structural/Civil Engineer who has had prior successes with these product ranges on other applications. Good access to the specification team at Technicrete for reliable supplier based technical input made a positive impact for us on this project "said Magner.
Probuild's Site Agent on the Du Pont Pioneer project, Mark Guthrie commented "Technicrete's Armorflex road product was easy to install, and the cells, when seeded and filled with topsoil, will enhance the growth of grass. The very design of Armorflex enables roots to penetrate the geotextile below the blocks which enhances anchorage of the installation, giving a very secure and sturdy surface for vehicle traffic. On this project the final appearance was very good and blended well with the natural rural aesthetics of the completed facility'.
The Du Pont Pioneer project which commenced in January 2016 was completed at the end of January 2017. The Technicrete Armorflex road and supporting Figure 3 and 7 kerbing covered 2,700 m2.
"We were very happy with the service we received from Technicrete. Due to the durability of the Armorflex road product, very little breakage occurred during the delivery of the product, resulting in a seamless installation" concluded Guthrie.
Technicrete ISG is part of the IS Group of companies which includes Rocla and Ocon Brick.