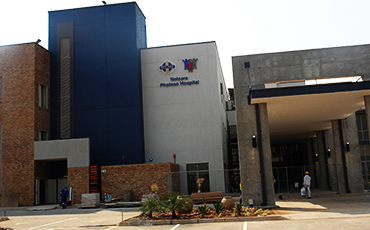 The new 200-bed Netcare Pholoso Private Hospital, which opened its doors on the 21st September 2015, installed Technicrete's Earthform garden blocks in the boundary retaining walls and kerbs in the hospital parking facility.
Hendrik Steenkamp, Technicrete ISG's Sales Consultant said "Our Earthform garden blocks offer a superior quality to other options on the market. They are well
suited for projects that comprise retaining walls as they are simple and quick to install and can be stacked up to eight levels high. Earthform blocks also offer the facility for vegetation to be planted within the blocks giving an aesthetically pleasing finish. We supplied over 3200 blocks to the Netcare Pholoso project."
"Two factors made us choose Technicrete's products, one is that they are SABS approved and the other is the competitive pricing that Technicrete ISG offers "said Faan Breytenbach, Owner of Racs Civils who was contracted to the Netcare Pholoso Private Hospital development.
"We used 2700 meters of their Fig 7 semi-mountable kerb blocks throughout the parking areas and the Earthform blocks were well suited for the finished look we were tasked with achieving at the hospital. With the deadline for the completion of the project being September, Technicrete ISG pulled out all the stops to supply the quantities of kerbs and blocks that we required, and they succeeded." said Breytenbach.
Technicrete ISG offers a vast range of paving, permeable paving, kerbing, blocks, precast walling and palisade fencing. The company also supplies the Technicrete Armorflex erosion control protection system suited to erosion control and drainage projects.
Technicrete ISG is part of the IS Group which also comprises Rocla and Ocon Brick.