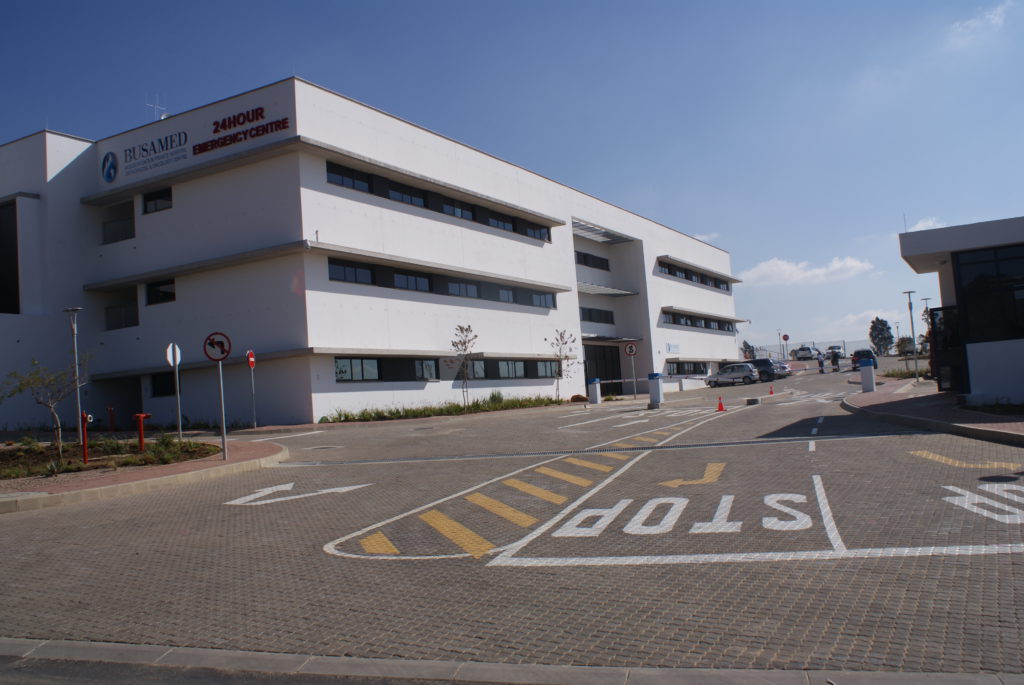 In June 2015 the construction of the new 200 bed Modderfontein Private Hospital began. This new development estimated at a cost of R 200 million will included a sports clinic and a 100 bed sub-acute facility with a parking area suitable to accommodate the vast number of visitors and emergency vehicles expected at the hospital. Technicrete ISG was contracted to supply the precast concrete kerbs and interlocking pavers for the project by Rhino Civils.
"While price was a pressing consideration when sourcing kerbing and pavers for the Modderfontein Private Hospital, it was not the only one. Service and especially reliable delivery are other key elements that we consider before choosing a supplier for projects we are subcontracting to" said Grant Oberem, Contract's Director for Rhino Civils.
"Technicrete met all of our required criteria; in addition, their products offered a very high quality and aesthetically pleasing finish, which is important to the surrounds of a healthcare facility. We at Rhino Civils have earthworks, kerb laying and paving teams with 15-20 years of experience between them. The fact that our kerb and paving teams can install between 100 m of kerbing and approximately 800 – 1000m2  of paving per day makes the partnership one of natural synergy: the superior Technicrete products installed professionally by the Rhino Civils team resulting in an outstanding finish" said Oberem.
Z S Coetzee, Technicrete ISG's Sales Manager for Gauteng added "Rhino Civils sourced Figure 3 barrier kerbs and Figure 7 semi mountable kerbs in addition to Double Zig Zag (DZZ) 60 mm and 80 mm grey pavers. The fact that Rhino Civils has experienced installation teams to work with our products ensures that the installation is successfully implemented and that an outstanding finish will be achieved".
"Our products speak for themselves. They have been chosen for many major projects over the years and are highly regarded within the industry and end-users for their durability and quality. The kerbs can be used as edge restraints in the construction of roads, kerbs and gutter systems while the DZZ interlocking pavers form a continuous and hard wearing surface that is ideally suited for commercial parking areas as well as heavy-duty industrial areas, roadways and depots, making the DZZ extremely application versatile" said Coetzee.
The Modderfontein Private Hospital project was completed in April 2016.
Technicrete ISG is part of the IS Group which also comprises Rocla and Ocon Brick.
Further information is available from: Guinevere Thomas, Group Marketing and Communications Manager, the IS Group Tel: 011 670 7733 Cell: 078 803 9863 email: Guinevere.Thomas@isgroup.co.za
Issued on behalf of the IS Group by: SJC Creative, Contact Sue Charlton Tel: 011 794 8170 Cell: 082 579 4263 email: sjc@worldonline.co.za