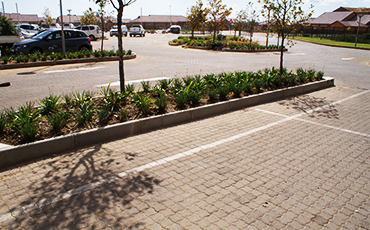 Shopping centres and commercial parks, whether large or small, need paving and kerbing for parking areas and walkways that will not only withstand the amount of anticipated foot and vehicle traffic, but will also be aesthetically pleasing and durable. Technicrete, one of South Africa's leading manufacturers of building and construction products was recently awarded the contract to pave and kerb the parking facilities for the new Pick 'n Pay outlet in Brentwood Park, Benoni on the East Rand.
"We used Technicrete's products at this Pick 'n Pay development not only because they conform to SABS, which is essential for the projects that we become involved with, but also because of their competitive pricing. In today's economic climate attention to project costs is critical not only for the project developer, but for all of the contractors involved. Technicrete's pricing, in conjunction with their product quality and reliability stands them in good stead" said Raymond Metcalfe, Contracts Manager for CivTek Civil Engineering Contractors.
"We used two styles of Technicrete's Barrier Kerbs and selected their Double Zig-Zag (DZZs) interlocking pavers for the parking area surface. We covered some 9,000 square meters with the DZZs and 2,000 meters of kerbing in total. In order to enhance the parking area appearance we also installed Technicrete Garden Kerbs. The parking area project was approximately six months and we are very happy with the final appearance at Brentwood Park" said Metcalfe.
Wayne Oliver, Sales Representative for Technicrete commented "It is always a pleasure to receive recognition for the service and quality of product that we offer our customers.
Safety is also a part of what is required when it comes to parking area surfaces; it has to be smooth and easy to navigate for pedestrians in particular, and should not have any unusual indentations, flaws or cracks that could cause injury. At Technicrete we ensure that our interlocking pavers and kerbs provide a sound and safe foundation that will not collapse or deteriorate from inclement weather exposure or under heavy vehicle loads".
"We have paving and kerb ranges that are manufactured specifically for certain applications; ranging from parking areas, petrol station forecourts to container terminals and this is where, based on our technical expertise, we can advise on the product most suited to the customer's application requirements" concluded Oliver.
Technicrete is part of the Infrastructure Specialist's Group, which also includes Ocon Brick and Rocla.